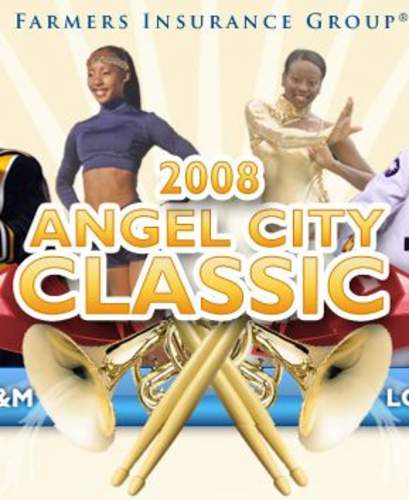 Flanked by notable business, community and political leaders, Black Educational
Events CEO John T. Fleming officially announced today at the famed Los Angeles Memorial Coliseum
that the Farmers Insurance Group Angel City Classic will be held Saturday September 27, 2008 at
2:00p.m. (PDT). To the rhythmic beats of Dorsey High School's drumline, Fleming went on to say that a major network has expressed "very strong interest" in nationally televising the game.
"In the Los Angeles Unified School District alone, there is a 40% dropout rate among African Americans and over 30% for Latinos. We are here to spotlight the importance of education for our youth," according to Fleming. "This is about more than just a football game. It's about a generation that needs to see for themselves what Historically Black Colleges and Universities truly have to offer."
Acclaimed actor, writer and producer Nick Cannon will also be touting the exciting match-up between Morehouse College and Prairie View A&M University through his "Stop Hating" campaign. "My organization's goal is to erase all negativity in the minds and hearts of our communities. To stop the hating of ourselves, other races, classes and cultures," said Cannon.
The 3rd annual Classic will feature a championship Pop Warner football match-up, a tailgate party cosponsored by Coors, vendor booths, a $5,000 King and Queen Scholarship Competition, the highly anticipated McDonalds "Battle of The Bands" halftime show, a BMW giveaway, and the newly added 5th Quarter concert featuring Oscar-winning music icon Isaac Hayes, courtesy of Stax Records – a division of Concord Music Group.
With a history of community outreach and activism such as the 1970's Wattstax music festival, Stax has lined up several surprise artists to pay tribute to Hayes. The label is also joining forces with "Declare Yourself" to ensure that the 80,000 people in attendance participate in the upcoming November presidential election. The organization's founder, legendary television producer/ philanthropist and Concord Music Group Co-Owner Norman Lear, created Declare Yourself specifically to empower and encourage young people to vote.
Other entities endorsing the Classic include KJLH 102.3, KDAY 93.5, Hot 92 Jamz, 94.7 The Wave,
KTLA Channel 5, Time Warner, Tri Destined Studios and both the Los Angeles Sentinel and Our
Weekly newspapers.
"We are honored to be the title sponsor of the Angel City Classic, particularly the Scholarship Gala
September 26," noted Farmers Insurance Group CEO Paul Hopkins. "Farmers National United Negro
College Fund Scholarship program will announce our National Scholar winners attending an HBCU or
UNCF school at the gala."
"It is Farmers' way of saying we care about young people who could use a helping hand as they pursue a college education. What better way to let them know that they deserve a good education and can achieve their goals in life because scholarships are available to help. We couldn't be more proud about helping these students achieve their dreams in life," explained Faye W. McClure, Farmers Vice President of Strategic Marketing.
Tickets for the event are available through Inglewood Tickets, Nix Check Cashing, Ticketmasters and the Los Angeles Coliseum. For a full list of sponsors, information concerning dates, times, activities as well as important updates, go to
www.angelcityclassic.com.
About Farmers
Farmers Group, Inc. is a wholly owned subsidiary of Zurich Financial Services, an insurance-based
financial services provider with a global network of subsidiaries and offices in North America and Europe as well as in Asia Pacific, Latin America and other markets. Farmers® is the nation's third-largest Personal Lines Property & Casualty insurance group. Headquartered in Los Angeles, the insurers comprising the Farmers Insurance Group of Companies provide Homeowners, Auto, Business, Life insurance and financial services to more than 10 million households. For more information about Farmers, visit our website at www.farmers.com.

About Black Educational Events, LLC
The primary mission of Black Educational Events, LLC (B.E.E.) is to produce classic events on the West Coast that showcase Historically Black Colleges and Universities. These events combine the
entertainment of bands, dance teams and cheering squads with the competition and pride associated with a HBCU football game. Because youth in western geographies are thousands of miles away from these institutions, the events produced by B.E.E also serve a higher purpose of increasing awareness, particularly among young people, of the educational and cultural opportunities offered by HBCUs.
Posted By:
Monday, August 11th 2008 at 9:26AM
You can also
click here to view all posts by this author...