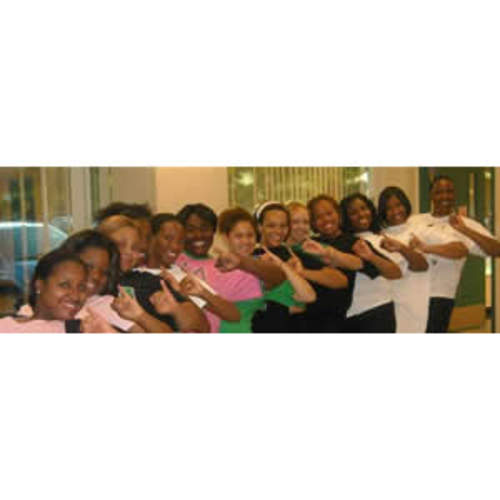 Call it a long-standing tradition. Call it an exercise in skill and precision. But, whatever you do, says Edison "Woody" Hubert, don't call it "Stomp the Yard."
"That was a movie. This is the real deal," says Hubert, 33, as he brings together local step teams of the "Divine Nine" Black Greek-letter fraternities and sororities to Chene Park to compete for the title of "Best Step Team" as well as bragging rights for an entire year Saturday for the 5th Annual Motor City Step Show.
To make the event more interesting, the step show will include a concert from rap star Juvenile.
Stepping, a traditional rhythmic march that uses sounds created from the hands, chest and feet as well as singing and chanting in unison to form a synchronized beat has been a staple of the National Pan-Hellenic Council (NPHC) organizations since the '70s. The origins of step go back to Africa as a form of communication and celebration between tribes, according to Hubert.
In addition to providing Detroiters with an event "where you can bring your kids to your grandma," Hubert hopes the event will help expose the community, particularly those who have not gone to college, to Black Greek-letter organizations.
Formed during a time when African-American students were excluded from membership in collegiate organizations, Alpha Phi Alpha Fraternity became the first Greek-letter organization followed by Alpha Kappa Alpha Sorority, Kappa Alpha Psi Fraternity, Omega Psi Phi Fraternity, Delta Sigma Theta Sorority, Phi Beta Sigma Fraternity, Zeta Phi Beta Sorority, Sigma Gamma Rho Sorority and Iota Phi Theta Fraternity.
To celebrate the 100th anniversary of the founding of their organization, several chapters of Alpha Kappa Alpha from across the state of Michigan are coming together to create a "statewide step team" to compete in the Motor City Step Show.
"Creating a statewide step team for AKA hasn't been done in while…we're trying to do something memorable," says 22-year-old Jennifer Patton.
To prepare for the show, Patton, a member of the Nu Theta Chapter of Grand Valley State University, says the 14 steppers and four extras that make the 18-member team has practiced together everyday for almost two months for at least four hours a day.
The step team is comprised of members of Eastern Michigan University (Xi), Wayne State University (Beta Mu), University of Michigan (Beta Eta), the University of Detroit and Marygrove University (Theta Tau).
As Patton says, it is important to know the history of stepping and its relationship to African culture, adding she wants the audience to know fraternity and sorority life is more than just step shows and parties.
"As it was told to me, stepping and strolling is an award for working hard for your organization," says Patton, referring to the task of improving the world through community service and scholastic achievement – goals most black fraternities and sororities share.
"If you haven't been working hard, you shouldn't step," says Patton.
As for Hubert -- an initiate of Omega Psi Phi Fraternity, who is currently a candidate for the Michigan House of Representatives from a district in Ypsilanti -- the step show is a labor of love as the participating chapters will share $4,000 in scholarship funds.
"No matter if we have 50, 500 or 5,000 people show up we will have a good time," he says.
Originally posted by Lester L. Holmes, Jr of MetroMix Detroit
Posted By: Reginald Culpepper
Monday, July 21st 2008 at 7:06PM
You can also
click here to view all posts by this author...