I (INSTRUCTOR MISS TAMICA Y. HOWARD- HEALTHCARE SPECIALIST AND LEGAL SECRETARY) AM ALSO A SUPPORTER OF THE NAACP. I'M CURRENTLY COMPLETING MY BOOK UNOFFICIALLY TITLED "CROOKED" WHICH INCLUDES THE FOLLOWING ISSUES ..
CURRENT ISSUES..THINGS TO THINK ABOUT...
1 I WONDER HOW MANY INDIVIDUALS IN THE USA ARE INTERESTED IN CAREERS IN THE FBI LIKE ME?
2 I AM INTERESTED IN DIVERSITY AND INCLUSION IN CORPORATE AMERICA.. WHICH SEEMS TO BE THE "GLUE" WHICH HOLDS OUR CIVIL RIGHTS TOGETHER IN THE USA
3 I WONDER HOW MANY SINGLE WOMEN LIKE ME.. WOULD LIKE TO PURSUE CAREERS/ LEADERSHIP POSITIONS IN CORPORATE SETTINGS IN THE USA IN CRIMINAL JUSTICE.. BESIDES ME. (WITH THE CURRENT CHANGES IN WHITEHOUSE/ POLITICAL ARENAS.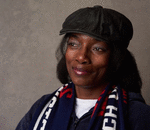 Posted By: INSTRUCTOR "007" MISS TAMICA Y. HOWARD_LEGALSECRETARY HOWARD_LegalSecretary
Saturday, January 20th 2018 at 2:13PM
You can also
click here to view all posts by this author...