A lot of things have taken place in our lives and in the world but we all have made it to this point. We have etched so many memories both good and bad, that has catapulted us to another place towards our destiny. This year is slowly but surely ending yet waiting to see another year arriving with its features. We look back to reminisce about the way things were and how we have made it to this chapter of our lives. Some of the characters that played a part in our lives showed up in areas where least expected branding us with ideas, attitudes and beliefs, causing unexpected transformation. We all have our personal stories and experiences that we could share to show the scars as well as the stripes of victories and defeat throughout the year.
Every year comes with a different beginning and ends with a conclusion of the whole person and mater at hand. What have you learned from the year's start and what have you accomplished at its ending? These are questions that we ask ourselves trusting that we have done all that we promised we would up to this point. We begin to focus on the upcoming year when things did not go as planned from the one ending. We are responsible for the manuscript and story of our lives by the way we carry on throughout the year. We paint a picture from the various colors of our life's spectrum formed from the paths and people we encountered daily. We try to avoid repeating any cycles that caused hardships or drama only to realize that they are the attributes for the continuance of our survival. There are books that were written without experiences but having vast knowledge and information handed down to them. However, profitable that may be for some our books need to be those of all qualities mentioned, to ensure a greater awareness of who we are, where we've been, what have we done, what will we do and definitely where are we going from here.
We can close the chapter of our book when these questions are truthfully and carefully thought and cared out by us. We all have written the book entitled "My Life's Experiences" which is specific to how we chose the story to begin and end as the year is carried out. We chose to allow the characters to come or go and to whatever place they take part in our lives. It is the decision we make to determine what genre we shall embrace to play out; whether it's drama, romance, suspense, mystery or even godly. The choices and consequences are ours; and the outcome we must owned up to, to be able to honestly close the chapter of our life's story to await the continuation of a more promising year ahead us. Whether your life is as you desired or not it is your responsibility to do what is deemed necessary to continue writing it until it lines up with your vision. HAPPY NEW YEAR as you take it on boldly with confidence to be triumphant in "ALL" that you do.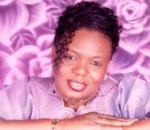 Posted By: Denise Isaac
Tuesday, December 31st 2013 at 11:50AM
You can also
click here to view all posts by this author...