Program Start Date: 1/5/2018
Program Details:
CBRE Group, Inc. is the world's largest commercial real estate services and investment firm, with more than 75,000 employees spread throughout over 100 countries. We have been included in the Fortune 500 since 2008 and have been voted the real estate industry's top brand by the Lipsey Company for 16 consecutive years.
CBRE's Valuation and Advisory Services Line of Business (CBRE VAS) offers an ideal place for employees to learn from some of the most talented real estate professionals in the industry and gain experience at an organization which allows employees to build their own personal brand and business. CBRE empowers employees to manage their own careers to reach their individual goals. Our employees enjoy a flexibility workplace with tremendous scale—in an inclusive, collaborative environment with supportive teammates who inspire each other to aim for world class excellence.
Due to the continued growth of CBREs VAS practice, we have developed a training program where candidates will receive extensive training and development opportunities over a 12-month period. Provided performance and training goals are met, successful Associates will be placed within an existing VAS team. This accelerated program provides an opportunity for employees to fast-track their personal knowledge and expertise across the major property types, an opportunity that is truly unique within the industry.
By the end of the 12-month program, Associates should:
• Gain expertise in fundamental valuation methodologies for various property types and real estate interests
• Develop relationships with developers, private equity fund managers, brokers and investors active in assigned market
• Learn financial modeling techniques for income producing properties, including discounted cash flow software ARGUS
• Work with CBRE's proprietary Excel valuation models to assist in the preparation of appraisal reports
• Become a self-sufficient, competent, and productive valuation professional
Program Location:
This 12-month training program will take place in Fort Worth, Texas, after which we will be placing candidates in Oklahoma City (OK), New Orleans (LA), or Baton Rouge (LA).
License Information:
• During the first stage of the training program, obtain a state-issued Appraiser Trainee License
• For more information on the Appraiser Trainee License requirements as well as requirements for the Certified General Appraiser license, please see:
www.talcb.texas.gov
Qualifications:
• Bachelor's degree (BA/BS) from a four-year college or university
• Strong written and verbal communications skills
• Ability to efficiently learn, absorb, prioritize and reconcile information
• Proven organizational and analytical skills
• Basic skills in Microsoft Word and Excel
APPLY:
http://hbcuconnect.com/resumes/?cid=55&src=ermoss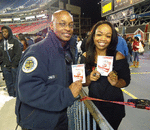 Posted By: Elynor Moss
Monday, November 27th 2017 at 12:07PM
You can also
click here to view all posts by this author...